For owners and operators of John Deere Gator utility vehicles, it is essential to understand the warning lights on the dashboard. This article provides key information about John Deere Gator warning lights, their meanings, and how to address them. By taking the time to review this comprehensive guide and follow its recommendations, vehicle owners can ensure that their vehicle remains in top shape and avoid potential issues.🤓
Curious about what that flashing light means? Read on to find out!
📊 Table of John Deere Gator Warning Lights and Their Meanings
John Deere Gator owners should familiarize themselves with the warning lights on their vehicle. Knowing what each of these signals means is important for keeping both the operator and the machine safe. This comprehensive guide provides a helpful table to explain each of the warning lights, including what they look like and an explanation for their significance. Understanding your Gator's warnings will help ensure that you're able to respond appropriately in any situation.
🚨You may be interested in: John Deere Lt160: Specs, Features, and Maintenance Guide
| Warning Light | Meaning |
| --- | --- |
| Battery | Low battery voltage or charging system malfunction |
| Engine | Malfunction in the engine or fuel system |
| Oil Pressure | Low oil pressure or oil pump malfunction |
| Seat Belt | Seat belt not fastened |
| Brake | Parking brake engaged or malfunction in the brake system |
| Transmission | Malfunction in the transmission system |
| Glow Plug | Preheating the engine for cold starts |
| Differential | Malfunction in the differential system |
| Service | Routine maintenance reminder |
| High Beam | High beam headlights on |
| Turn Signal | Turn signal is activated |
| Hazard Warning | Hazard warning lights are on |
| 4WD | Four-wheel drive is engaged |
| Water Temp | Engine is overheating |
| Fuel Gauge | Low fuel level |
🚨John Deere Gator Warning Lights Meanings and Implications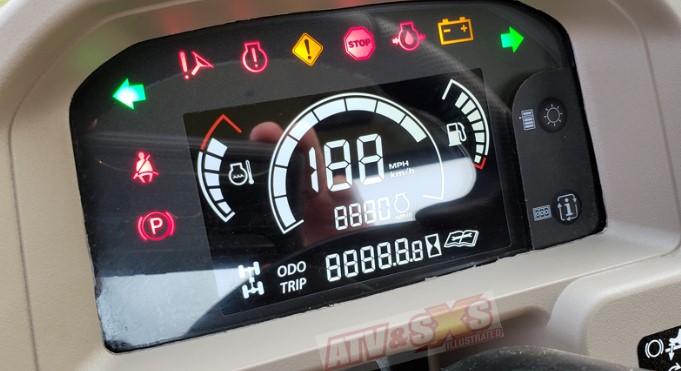 It is imperative to take warning lights seriously, as they can signify significant issues that require prompt attention. Neglecting a warning light may cause additional damage and pricey repairs. Whilst some indicator lights, such as the Service light, are reminders for regular maintenance and are easily addressed, others including the Battery, Engine and Transmission lights necessitate swift action to avoid more serious complications.
🚨You may be interested in: John Deere Gator Primary Clutch Troubleshooting
🔍 Conclusion: Stay Safe and Maintain Your John Deere Gator
Understanding the warning lights on a John Deere Gator is essential for the safety and longevity of the vehicle. Regular maintenance and prompt attention to these warnings can help avoid costly repairs, keeping your Gator running in peak condition. People should not ignore any warning signs that appear on their Gator's dashboard; instead they should take appropriate action to resolve the issue as soon as possible.
💥See also: SPN FMI Code List John Deere